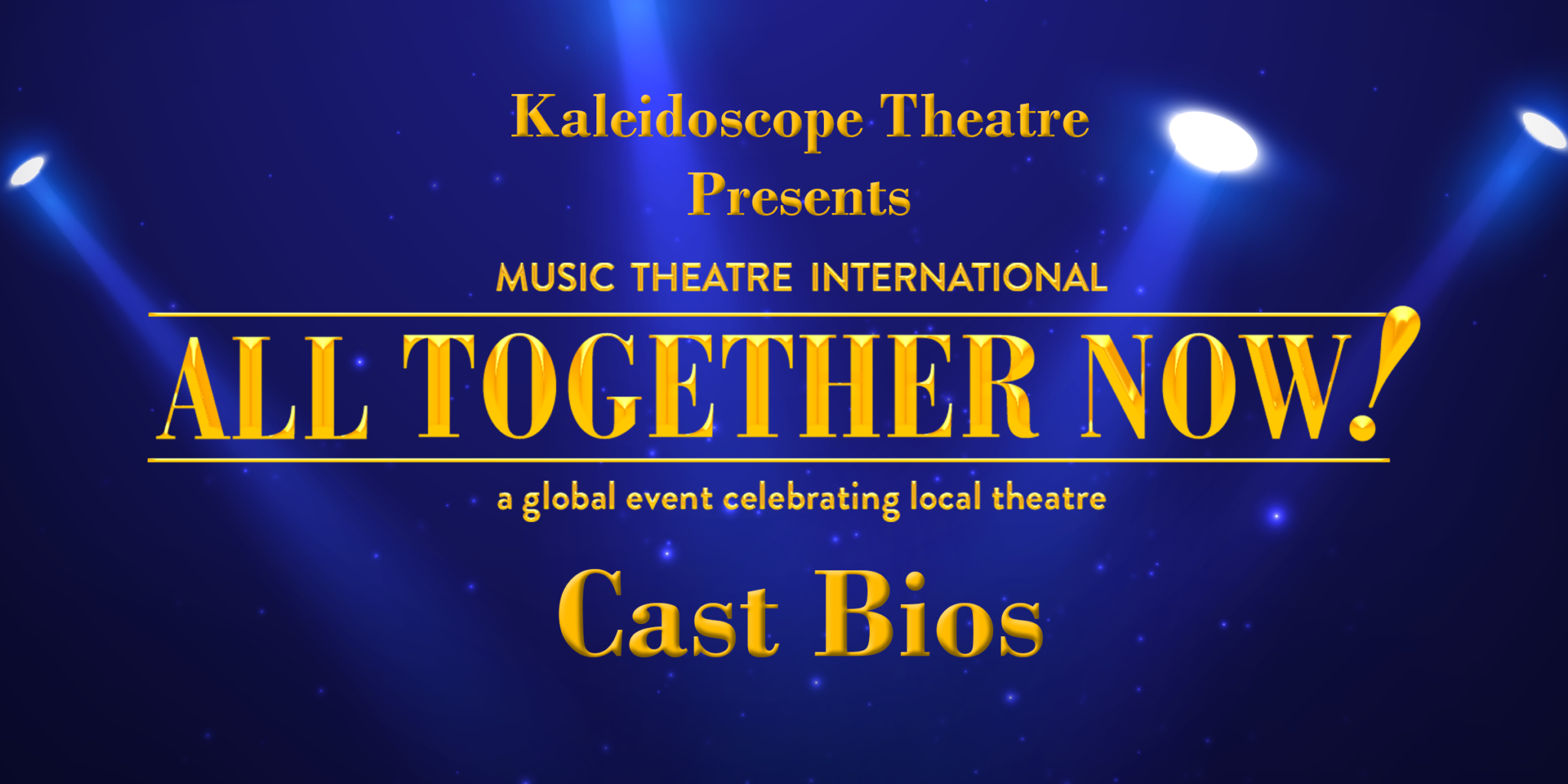 Jason Betz
Jason made his acting debut as a munchkin in The Wizard of Oz 30 years ago and has been acting ever since. He graduated with theatre degrees from GCSC and USF. Most recently, he was seen in KT productions of Amorous Ambassador and The Rainmaker earlier this year. Other KT productions include The Nerd, To Kill a Mockingbird, and Kitchen Witches. Recent productions from other theatre companies include Anatomy of Gray and Cabaret (GCSC), Merchant of Venice and Incident at Vichy (MET). He can also be heard as the audiobook narrator of Michael Lister's John Jordan series. Thanks and love to his family.
Kellina Crowe
Kellina "Lina" is thrilled to be back on stage for the first time since playing Shulie in Kaleidoscope Theatre's production of "Schoolhouse Rock LIVE!" three years ago. Kellina is a 2009 graduate of the Bay High Theater Program and is currently a lead coach at Bitty Bubbles Swim School. Some of her favorite credits include the ensemble in "Les Miserables" "Annie" and "Amadeus" all at GCSC,. Kellina is a Maine Coon Mama to George Gustopher and has a slight addiction to foreign TV, Thai food and K-Pop. She is so excited to share the stage again with some old friends and so happy to make some new ones.
Madison Hayne
Madison joined Mosley Drama in 2019 and did her first show with Bruce Taws, playing Alice Beineke in Mosley's production of The Addams Family. She is currently enrolled at Gulf Coast State College and is working with Carissa Hosea with the Singing Commodores and is pursuing a degree in music. A huge shoutout to David Hayne, Bruce Taws, Carissa Hosea, Rebekah Poe and others who helped her along her theatrical journey and supported her when she needed it most.
Ty Kent
Tyler has performed on Bay County stages for the past 17yrs and is thrilled to be performing in this wonderful night of Musical Theatre. His next performance is in "Every Christmas Story Ever Told (and then some) at the Spanish Trail Playhouse in Chipley FL, performances DEC 9-12! Some past credits include Alfie in One Man, Two Guvnors (GCSC), Igor in Young Frankenstein (Martin Theatre) Brad Majors in Rocky Horror (Kaleidoscope) and Enjolras in Les Miserables (GCSC). He would like to thank you all for attending and supporting the locals arts tonight, because without your support and love for the arts, we would surely lose live theatre in Panama City!
Hillary McAlinden
Hillary is so happy to be directing again with so many of my friends. But no show is complete is without making new ones. She has previously been seen in The Rainmaker and directed You're A Good Man Charlie Brown. Thank you so much for always being supportive of Kaleidoscope's endeavors. I would like to thank my mom Eva, my amazing husband Bill and my daughter Brooklyn for doing this showcase with me. Thank you to Stephanie Grogan and Babs Umenhofer for keeping sane. And to Julie Ward and Lauren Kolmetz for helping me stage this. I am so grateful.
Clinton McCormick
Clinton James McCormick from Panama City Fl. Past Musical Performances Musical "Company" role "David" Musical "Les Miserables" role "Jean Valjean" Musical "Annie" role "Oliver Warbucks" Musical "The Wiz" role "Vocals" Musical "Guys and dolls" role "Sky Masterson" Musical "Secret Garden" role "Captain Albert Lennox" Musical "Blame it on the movies" role " Ensemble" Thank you all for coming out to support the arts this evening. Enjoy the show.
Rebekah Poe
Rebekah is a student of Gulf Coast and has performed in choirs and professional opera solo competitions. Rebekah also performed in Mosley Drama productions such as Morticia in Addams Family the Musical, Dragon in Shrek the Musical, and did tech in Miracle Worker. Rebekah wishes to thank her friends, Millie Lamb and Madison Hayne, for pushing her to pursue her dreams. Rebekah would also like to say thank you to her mother and father for supporting her in her goals, and always being there when she needs inspiration. Rebekah would also like to thank Kaleidoscope Theater for allowing her to perform alongside them and their friendship!
Anthony Powiliatis
Anthony has been performing in theater since 2006 and has been involved in nearly 40 productions. His most recent performance was KT's You're a Good Man, Charlie Brown. In addition to theater, he has a passion for improvisation and ran a professional comedy troupe for 2 years. He has taught classes for several years now at Kaleidoscope's Kids Camp and will be teaching acting and improv classes at a local performing arts studio this January. He is absolutely thrilled to get to star alongside his daughter Aria in her first production and cannot wait to share the spotlight with her for many years to come!
Patrick Rangel
Patrick is from Los Angeles, Ca but raised in Austin, TX I was first involved in the filmmaking and boxing community. I was crewing in a short film when I met a friend who ran a Spanish language community theater called Proyecto Teatro, where I first performed on stage in an original play called Canela Blanca. From there I went to making short films and boxing where I fought 2 professional fights and had a short film selected to play at an international film festival. I joined the Air Force in 2016 where I got stationed at Tyndall AFB in 2020 and I had the opportunity to get involved with Kaleidoscope theater.
Caleb Santos-Alejandro
Caleb is a Panama City native and graduate of Mosley High School and GCSC. Former roles include Gratiano in Merchant of Venice, various roles in Fifth Planet, and Lysander in A Midsummer Night's Dream (all with the MET). This is Caleb's first production with Kaleidoscope Theatre.
Stephanie Santos-Alejandro
Stephanie was born in Panama City and graduated from Vanderbilt University with a major in Theatre. This is her first show with Kaleidoscope Theatre and she is very excited! She has also appeared in shows such as Hairspray, Charlotte's Web, The Cradle Will Rock, Fifth Planet, A Midsummer Night's Dream, and The Merchant of Venice, and has been a recurring participant in the MET Shakespeare Lab.
Olivia Van Kley
Olivia is an aspiring actress currently working as a supervisor at Ripley's Believe It or Not!. She spends her free time making costumes and props and hopes to one day make a living doing these, if not onstage. Olivia first performed in Oliver! at Kaleidoscope at the age of 12 and seems to have never left the stage since. She would like to thank the many players she's met that have acted as mentors along her creative path, as well as her mother for pushing her into the spotlight.
Julia Ward
Julia is the choir director at Bay High School. She moved to Panama City from Atlanta where she taught music and choir. Julia has appeared in school and community theatre productions including "Carnival", "Les Miserables", "Guys and Dolls" She holds a Bachelor of Music Degree from Georgia State University with a concentration in vocal performance and choral conducting. She would like to thank Lois Carter for asking BHS to be involved with this production, as well as Hillary McAlinden for welcoming her into the Kaleidoscope family. Finally, thank you to the students of BHS Choir who jumped at the chance to be part of musical theatre!
Martha Wingfield
Martha Wingfield was born and raised in Muscatine, IA. She has a bachelor's degree in Vocal Performance, and is currently a choir director and private vocal instructor. Martha has been blessed to celebrate the performing arts around the country, and world, as she travels with her husband who serves in the US Air Force. Recently Martha has re-entered the world of musical theater, playing Irene Malloy in "Hello Dolly" in '19, Audrey in "Little Shop of Horrors" in '20, and Lucy Van Pelt in Kaleidoscope Theater's "You're a Good Man Charlie Brown" in '21. Martha would like to thank her military family, and her husband, Ben, for his constant support and encouragement!
Katie Barber
Katie is excited to be in the show and is also currently in the music man.
Lexie Barber
Lexie is excited to be in the show and is also currently in the music man.
Brooklyn Hutchins
Brooklyn is a 7th grader at Mowat middle school. She loves to sing, draw and perform. She is thankful for her mom (Hillary), Bill and her nana (Eva). They are awesome.
James Kolmetz
James is in the 6th grade at North Bay Haven. This is his 4th show but his first with Kaleidoscope. In addition to theatre, James loves to play baseball. Thanks to family and teachers!
Aria Powiliatis
Aria is so excited to be performing in her very first musical! Although only 5 years old, she has grown up in musical theater and dance. Both of her parents are no strangers to the stage and Aria has been following in their footsteps. She cannot wait to perform in many more shows to come!
Zeke Smith
Zeke Smith is 11 years old. He enjoys singing, dancing, acting, as well as sports! Zeke is passionate about developing his talents. Zeke has performed in several stage productions including an upcoming performance in If I Had No Voice Dance Company's performance of The Music Man! Zeke is excited for his first performance with the Kaleidoscope Theater!
Andrew Vigil
Andrew is a 5th grade homeschooler. He likes long walks on the beach and legos. He has played the Wizard in Wizard of Oz and is currently in the Music man.
Charlotte Vigil
Charlotte Vigil is a 2nd grade homeschooler. She is a little artist and a fashionista. She played a tree and a munchkin in The Wizard of Oz. And is currently in the Music Man.
Tehani Toi
Tehani is a junior at Bay High School. She has been in choir during elementary, middle, and high school. This will be her first ever musical production. Thank you to my parents for being supportive of my excitement to be a part of the show. Thank you to Shelby R. who has been so helpful in learning choreography for "We're All in This Together." I would like to thank all of my friends in choir for making learning all of the songs and dances fun and a positive experience. Thank you to Ms. Ward for helping me learn the music to both numbers. Last but not least, I would like to give a big thank you to Kaleidoscope for allowing Bay High Choir to participate in "All Together Now."
Arianna Miller
Arianna Miller has been in Bay High Schools Choir since school started. She loves it. She's been in seussical the musical as the sour kangaroo. Arianna thanks her mom for letting her have this opportunity.
Allie Villegas
Bay High, 11th grade. Musical in eighth grade. It was Shrek and I played the dragon.
Shyanne Johnson
Bay high school 10th grade Shyanne has been in choir for 6 years
Sevena Emerson
Bay High, 12th grade, This is my first production. Thanks to my momma for believing in me<3
Ajasnia Gasca
Bay high school, 12th grade
Lacey Welch
Bay High, 9th Grade, Choir (6th, 7th, 8th, 9th, 9th)
Tashunie Macintosh
I am in 11th grade and this is my first productions
Aliyah Morphis
I just love to sing, that's all
Jaxon Morgan
Bay High Student
Cyrus Kelly
Bay High Student
Marcian Kitchins
Bay High Student
Neveah Nilliams
Bay High Student
Amari Harrison
Bay High Student
Reagan Ross
Bay High Student
Averia Davis
Bay High Student
Liliana Walker
Bay High Student
Christian Peel
Bay High Student
Jermienia Lucky
Bay High Student
Ayanna Jones
Bay High Student
Sasha Poole
Bay High Student
Jaythan Givens
Bay High Student
Tara Mills
Bay High Student
Tyler Carbajal
Bay High Student